Welcome to Walton-on-the-Naze - See below for full weather forecast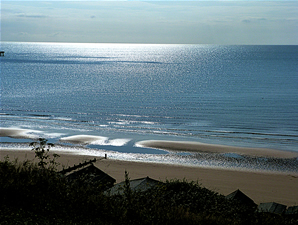 Walton is a traditional seaside town with many original features. It has a fascinating history, wonderful walks, nature reserves and the second longest pier in Britain and miles of golden sandy beaches.
Walton On The Naze Weather
An interesting feature of Walton is the manner in which its gaily coloured beach huts are arranged in receding tiers along and slightly above the beach. These huts are widely used by holidaymakers as almost a 'home from home' they provide a handy alternative to the beach for a picnic as well as a place to hide from a sudden squall.
The beach is a haven for sun worshippers, it is of lovely firm golden sand, and swimming is safe from the shore-line.
The pier is a must for all the family. It is equipped to provide everything for family fun including the time honoured past-time for Dad, fishing for Cod from the pier!
At the northern end of the town lies the sweeping area of grass and gorse that is known as the Naze, beneath which fossil rich cliffs tumble down to the shore. Wildlife flourishes on the Naze which provides a sanctuary for migrating birds. Many rare species can be seen such as Marsh Harriers, Teal and Twite. In spring and autumn the Nature trail comes alive with butterflies, the Essex skipper and Painted lady being but two. Wildlife boat trips can be arranged.

You Can Get Free Gift Cards For Shopping, Searching and Discovering What's Online at Swagbucks.com